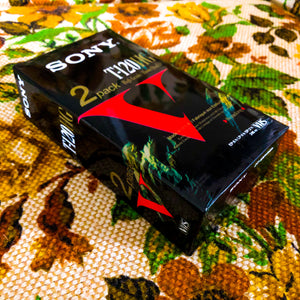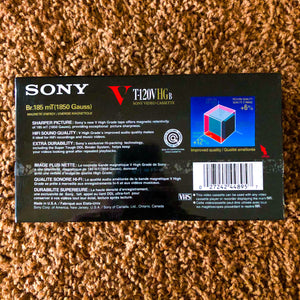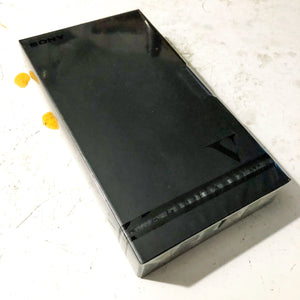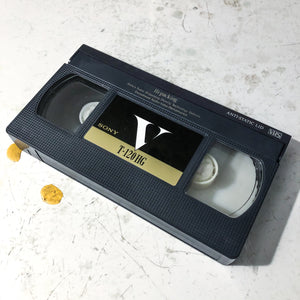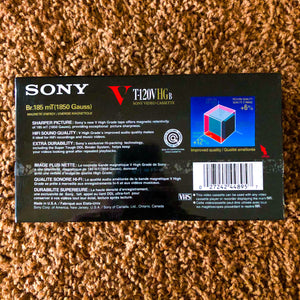 Sony
SONY T-120HGB 2 Pack
SEALED two-packs of BLANK 120 minute VHS cassettes.
From the packaging:
"SHARPER PICTURE: Sony's new V High Grade tape offers magnetic retentivity of 185 mT (1850 Gauss), providing exceptional picture sharpness.
HIFI SOUND QUALITY: V High Grade's improved audio quality makes it ideal for HiFi recordings and music videos.
EXTRA DURABILITY: Sony's exclusive Hi-packing technology, including the Super Tough DDL Binder System, helps keep your videos looking great after repeated playbacks."
WHAMMY! has acquired a large stockpile of these tapes. The source of which traces back to an eccentric Japanese billionaire who loved American country-western music television programming so much, he employed 2 persons to record these programs every day. He had thousands of blank tapes shipped from Japan for this purpose. The remainder of the excess blanks have remained in storage, sealed and in their original boxes, kept away from heat and sunlight, to this day.
Each sealed package contains 2 individually sealed T-120 High Grade VHS tapes, with cardboard sleeves.
T-120 tapes will record 2 hours in standard mode, 4 hours in LP mode, or 6 hours in EP mode.

These HG tapes are especially useful for purposes where high quality audio reproduction is essential.